Life is too short to serve your art in anything less than art.
After you spent hours making your dish, why put it in a boring dish.  Our visual sense does affect the flavor.  I get a great deal of personal satisfaction making utilitarian objects.  Several different finishes are used, but my preference is to us GF (General Finish) Salad Bowl finish.  Once cured, it is very durable, requiring no maintenance.  But, it takes weeks to apply the multiple coats, and then needs 6 to 8 weeks to cure.  I also use food safe mineral oil, but it requires constant maintenance.  While called a finish, it does little to protect the wood.  For some projects, it is the perfect solution.  No finish is perfect, all have pro's and con's.
 This is a Madrone Burl bowl, finished with oil.  You can see a much more muted surface, but perfect for those worried about chemicals.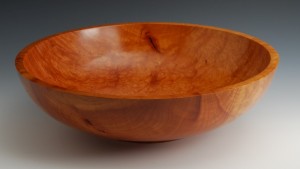 Also a Madrone Burl bowl, but finished with GF Salad Bowl finish.  I buff it out to be more of a satin finish look.
 A Carob bowl, finished with GF Salad Bowl finish.