These pieces leave the outer edge of the tree exposed.  Sometimes the piece of wood screams for this.  Other times, the surface was just too bland.  I love making pieces functional so I don't leave the bark on very often.  With some types of trees, the bark is firmly attached and is safe to leave.  But it is almost impossible to clean after putting food in a bowl.  This will lead to bad things, so please carefully consider what you are looking for before purchasing or making these kinds of pieces.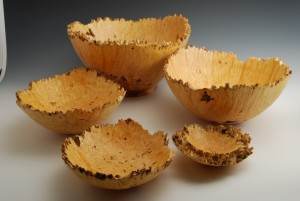 This is a set bowls with the natural edge made from one piece of Maple Burl.  The edges can be very sharp, and the bark is almost always removed in the cleaning process.  Maple burls tend to have a grit, rocks, dirt, etc when we buy them.  The first step is to power wash the burl, removing all unwanted junk, but also removing the bark.
 An example of a shallow bowl, leaving the natural maple burl edge around the outside edge.  A very nice piece, that pushed the limit of my turning capacity.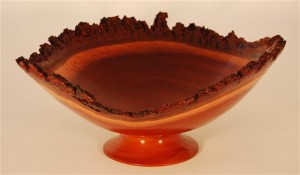 A piece of red bark eucalyptus with the bark.  The bark is pretty secure, but you can not pick it up by the bark.  You will be holding the bark.  It is a beautiful deep red.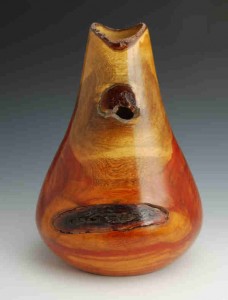 This was one of those pieces that screamed at me.  I knew the moment i saw the log what I wanted to make.  It is a piece of carob, which frequently has voids, etc.  It is not often that this tree actually produces large pieces.  Large trees usually turn out to be several different pieces.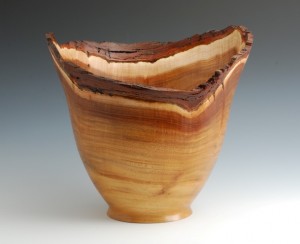 One of the larger pieces of black acacia that I have turned and left the natural edge on.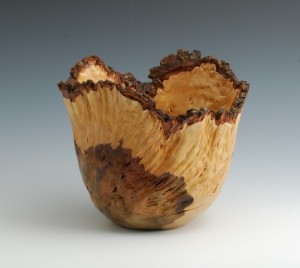 This natural edge piece was made from a Pepper tree burl.  This wood can fool you, starting out with some of the most gorgeous pinks and reds, but alas it all fads to brown, and quickly.  The white sap can cause very bad skin reactions, so turning wet requires wearing nitrile gloves.  As it dries, it has significant cell collapse.  In the end, mother nature determines the end result.  This piece was beautiful, moving in a very interesting way.